In an Australian first, Shared Value Project Founding Member Bendigo and Adelaide Bank have partnered with Deakin University to create Deakin University Community Bank, with profits being returned to the Deakin community. Based on the well established Community Bank model, the university branch provides the Deakin community with more than just banking services, it delivers local employment opportunities, keeps local capital in the university community, provides a source of revenue for scholarships, support for clubs, funding for research, or projects that make Deakin an even better place to study and work.
Deakin University and Bendigo Bank
In 2015, Deakin University and the Bendigo Bank agreed to explore opportunities to collaborate and identify:
Activities of mutual interest
Opportunities to undertake collaborative activities for promotion, growth and development of each other's respective enterprise.
Deakin and the Bank agreed to work together towards:
Developing partnerships in regional centres to develop a Regional Community Education and Skills Plan (Western Riverina 'Grow our own' project)
Partnering on digital engagement/innovation opportunities
The development of a community bank at Deakin University (Deakin University Community Bank®)
Developing a joint regional research program to identify and support regional Victorian and southern NSW communities, and
Establishing a jointly funded regional scholarship program (Bendigo Bank Community Scholarships).
How does it work?
When Deakin staff, students and alumni choose to bank with Bendigo Bank through the Deakin University Community Bank®, they'll be contributing to its profits. These profits could, for example, fund:
Scholarships to support young people pursuing their dreams
Grants to help our researchers become leaders in their field
Sustainable infrastructure projects to make Deakin an even better place to work and study
Financial support for clubs, societies and community-building activities.
Deakin University has established an advisory board that is representative of the University community (staff, students and alumni) who will make decisions on distribution of profits.
The Melbourne Burwood Campus has a Customer Hub and an ATM. The Geelong Waterfront and Waurn Ponds campuses have one ATM each. Customers can also visit any Bendigo Bank branch.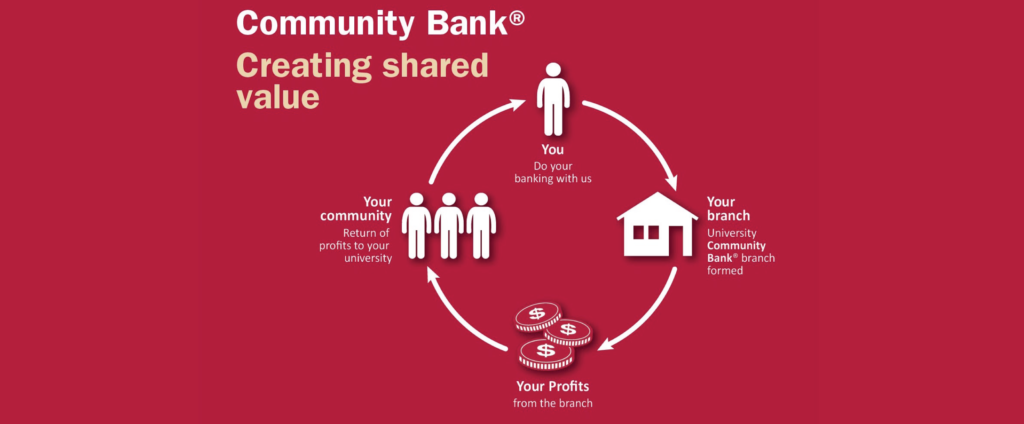 Celebrating the first 100 Days of Deakin University Community Bank
Deakin University Vice-Chancellor, Professor Jane den Hollander AO, discusses some of the outstanding successes of the Deakin University Community Bank over its first 100 days.
"This collaboration stems from Deakin's mission to constantly improve the experience we provide to the communities we serve, and to build external partnerships that add value to all involved, both socially and financially."
Learn more from Bendigo and Adelaide Bank
Read the shared value case study – Shared Value in Banking: The Community Bank Model
Image credit: Photography by Simon Fox, Deakin University